Facebook
Twitter
Flipboard
Print
Email
close
Video
Author Paula Faris warns against working mom 'burnout' and calls for support: 'Ditch the mom guilt'
Paula Faris, author of 'You Don't Have To Carry It All,' discusses the need to support working moms suffering from burnout.
Working moms should not feel that they have to "carry it all," said author Paula Faris this week.
A former broadcast journalist who now lives and works from her home in South Carolina as she raises three children, Faris appeared on "Fox & Friends" on Thursday, March 9, to discuss her new book, "You Don't Have to Carry It All: Ditch the Mom Guilt and Find a Better Way."
She said "mom guilt" about working is a uniquely American concept.
"I think we've been conditioned in this country to believe that we have to do it all, we have to carry it all," she said. "And that's why we're seeing record numbers of burnout among mothers and working mothers in America."
WANT TO AVOID BURNOUT? AUTHOR SAYS WORKING MORE ISN'T ACTUALLY GETTING MORE DONE'
She continued, "It's harder to be a mother, it's harder to be a working mom in America than anywhere else" — adding that this is because of the expectations American society puts on mothers.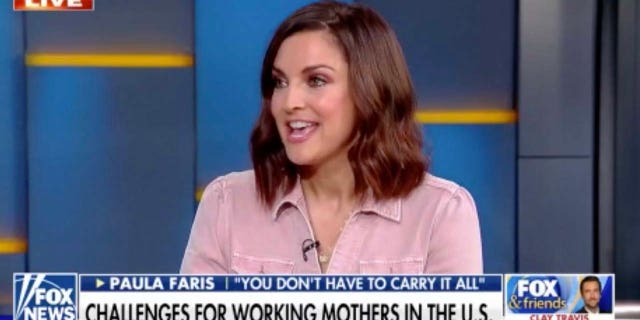 Author Paula Faris, a mom of three who is based in South Carolina, was a guest on "Fox and Friends" on March 9 to discuss the pressures working mothers often feel today. (Fox News)
Faris interviewed many types of experts for her parenting book, she said, to help "give working moms the support they need and deserve."
She added, "A lot of people are skeptical" about the issue, noting they may feel, "Why is it my problem?"
KIDS NEED TO KNOW: IS MY MOM A 'SCRUNCHY' PARENT? HERE'S THE TRUTH BEHIND THE VIRAL TIKTOK TREND
Working mothers put a lot of pressure on themselves, she said, noting that she herself had to "pump the breaks" on her broadcasting career in 2018.
She always felt that she should be "momming" instead of working.